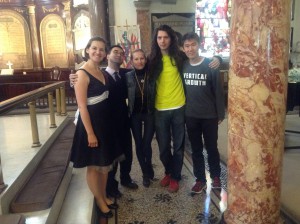 I gave a concert in All Saints' church in Marlow on May 16, 2015.
The state at that time is recorded in the following movies.

The performance contents of the day
>>Violin & Piano
Henryk Wieniawski: Legende, Op.17
Bedrich Smetana: From the homeland(1st mov.:Moderato,2nd mov.:Anadantino,Moderato), JB 1:118, T.128.
Gabriel Faure: Berceuse, Op.16.
Fritz Kreisler: Marche miniature viennoise.
Edwad Elgar: Salut d'amour, Op.12.
>>Violin
Johann Sebastian Bach: Sonata No. 1 in G minor for solo violin, BWV 1001.
>>Piano
Fumi Otsuki: Allegor giocoso(about the landscape around the Tokyo skytree tower for piano solo).